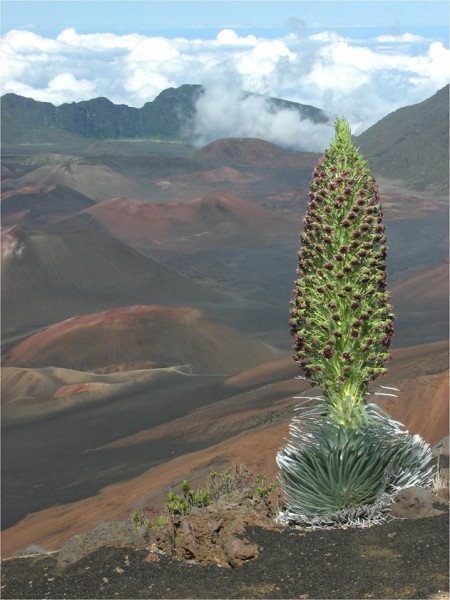 The Federal Aviation Administration (FAA) and the National Park Service (NPS) are working on potential alternatives for an Air Tour Management Plan (ATMP) for Haleakalā National Park. Public feedback during this phase is critical.
Alternatives being considered are:
No Action – This alternative is required by federal regulations, but is not a selectable alternative because it does not meet the purpose/need for the ATMP. It provides a basis for comparison with other alternatives.
Alternative 2 – this option would prohibit air tours within the ATMP planning area. The ATMP planning area includes areas below 5,000 feet Above Ground Level (AGL) and within 1/2-mile of the Park boundary. The Park itself would be designated as an area to remain free of commercial air tours under 5,000 feet AGL. Tour aircraft could still fly over the Park if they maintain an altitude of at least 5,000ʻ AGL, but this is the best Alternative presented.
Alternative 3 would allow for a single flight path within the ATMP planning area and a reduction in the number of commercial air tours authorized to fly over the Park, in order to protect Park resources, values, and visitor experience. Unfortunately, this route would concentrate helicopter traffic on the south side of Haleakalā, and helicopters would fly over Kahikinui, Kaupō, and Kipahulu before exiting the ATMP area, and then likely heading along the coast toward Hana. All of these areas are now fairly quiet, and would likely experience increased helicopter noise. It is important that comments be submitted regarding the shortcomings of Alternative 3.
The FAA and NPS have issued a DRAFT Air Tour Management Plan for public review and comment. You can access the draft ATMP here.
They have also presented an Environmental Assessment that can be found here.
Finally, the agencies have also issued another document that answers Frequently Asked Questions. It can be accessed here.
Unfortunately, the FAA/NPS are not accepting emailed comments. They want you to use their online comment portal, or to send comments by mail. Comments on the Draft ATMP and Draft EA must be received no later than June 20, 2023 at 8:00 PM HST.
Itʻs very important that your comments be submitted using their process. We have provided the following instructions to make it easier to send comments that will be looked at.
Instructions for Public Comment
VERY IMPORTANT: The agencies are seeking substantive comments that describe why something will or will not work, provide new ideas or factual information to correct or adjust assumptions made, or present reasonable alternatives other than those described. Comments that merely support or oppose the proposals are not considered substantive. Commenters may wish to consider the following questions:
What elements of the alternatives do you think are most important? Why?
What other information should the planning team consider when analyzing the alternatives?
Are there other elements or ideas that should be considered and analyzed that are not already presented? What is missing, and why should it be considered?
Are there other resources or impact topics that should be considered in the analysis?
What other comments and suggestions do you have?
Comments may be submitted using the Planning, Environment & Public Comment (PEPC) system. Note that this system does not list the Alternative being considered, so itʻs best to do the following:
Write up your comments using your favorite word processing program.
Copy all of the text from your document.
Click on the "Comment Now" button
Paste your comments into the "Comments:" field
Fill out the lines at the top of the Comment Form
Click "Submit"
Written comments may also be sent via postal mail to the following address: Volpe National Transportation Systems Center
Kaitlyn Rimol, V-326
Attn: Haleakalā National Park ATMP
55 Broadway
Cambridge, MA 02142